Getting Around
Public transport in Paris is excellent both in value and quality. The Metro was packed and a bit hot but good value for money. The busses are really excellent with the routes shown on the side. Very good prices too.
Click on any of the photos to open a larger version in a new browser window.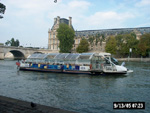 We absolutely loved the Batobus which is a hop on/hop off boat with 8 stops. There is no annoying muzak or commentary beyond a brief explanation just before each stop. The crew are amazing. They all speak several languages and are charming, polite and helpful. Hello to Maria and the rest of the crew. You can buy a one day, two day, five day or annual ticket. It is terrific value for money.
Seeing the city from the river is fascinating, the buildings, the bridges, even the water. The views of a few other things were quite amusing too including a lady sunbathing topless not far from the Notre Dame and a very large and exceptionally well endowed black gentleman wearing a very tiny thong. The fire department are much in evidence, including this boat with plants and a tree growing on it! We also saw a couple of people swimming in the Seine which seemed quite brave. Both times they had a police escort.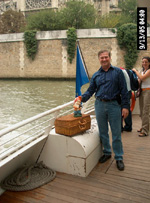 Naturally we had to take the gnome on a boat trip too. We had him wrapped up and packed inside the picnic basket which raised a few eyebrows when we went through security checks at the Musee d'Orsay......
Yes, people thought we were nuts but hey we gave them a laugh.

Our trip to and from London was on British Airways. Flights were absolutely packed and they were still having some problems with their caterers but the service was excellent. No trace of the snotty 'Welcome to London you foreign peasants' attitude of years ago. It really is worth spending a little extra for premium economy. The extra legroom and comfortable seats make a big difference on a longer flight. Business and first looked marvellous of course but that'll have to wait for a lottery win.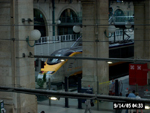 We left Paris on the Eurostar. I was very nervous about the idea of going under the water, even though I get sick as a dog above the water. I have to say that though it is not cheap the Eurostar is clean, smooth, so very smooth and really even I had no problem during the dark bit (about 45 minutes or so) under the sea.