People
Click on the photos to see a larger version in a new browser window.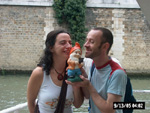 We met a really delightful couple from Cork. He had a few dry comments about the joys of the Museum of Modern art. Pithy. ;o) Hilarious.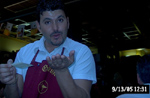 This is Vinnie, a waiter at La Gueuse, our favourite restaurant. All of the staff there are lovely but he is a real sweetie. The prices are very reasonable. The mussels and frites are as good as those in Belgium. One of the waiters took some convincing that we do know how to read the menu in French and also that we really did want a rare and not a well done steak which was quite funny.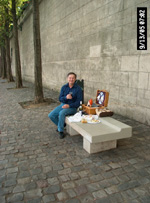 We had a picnic by the Seine. The security guard at Musee D'Orsay considered confiscating the picnic basket once he had checked out the contents.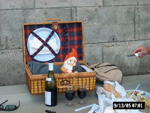 -