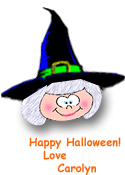 Hello James and Gina,
I have not changed the photos this week because Jonathan is going to have a look when he gets back from Spain and Matt and Mandy are going to show Ethan and Whitley.

Last week I got up to make a cup of tea and saw that overnight we had had a very heavy frost and possibly even some flakes of snow. This is the omen to prepare for Uncle Alan's Annual Fishing Trip.

Uncle Alan loves to fish and he is really, really good at fishing. Unfortunately he is absolute cwap at catching anything. In all the years I have known him, which is quite a few, he has gone fishing many times. The only and I do mean the only time I have ever known him to catch anything is on his Annual Fishing Trip which has been happening every year since we moved here to the dome in 1998.

You remember last week I showed you the photos of our trees with the lovely colours? This is what happened during the week..............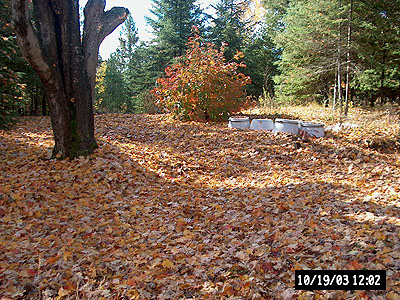 SusieDog the Demented has been enjoying the day too. She's not been very well lately, she's 13 years old which makes her a grand old lady in dog years.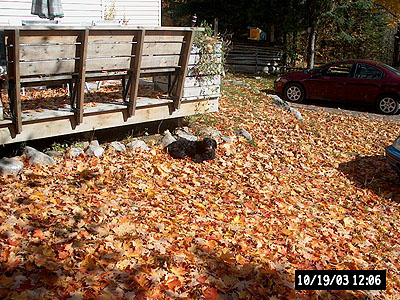 Uncle Alan gets ready to fish. As you can see he has a very professional fishing net. Bracing himself against the elements he approaches the vast body of water. Will he be successful? The pond is only a couple of feet deep so it freezes solid over the winter - hence his dangerous foray to the water in search of piscine bounty.

Hello..................... what's this, what's this? Could he have caught a fish already?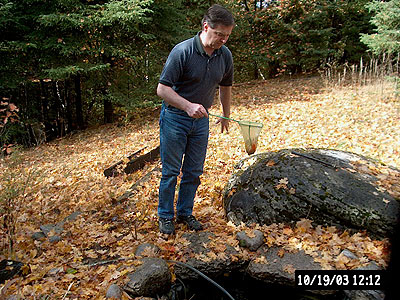 Indeed he has!!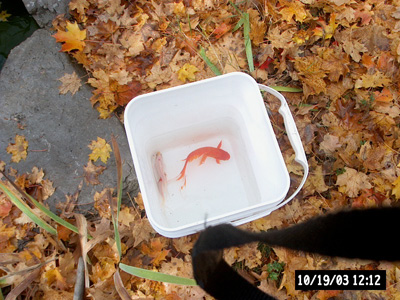 Uncle Alan only gave me two jobs during this exercise.
I had to take the photos.
And I had to make sure the tank didn't overflow when it was being filled up.................
Here is a photo of the towels on the floor mopping up the water on the carpet after the tank overflowed when it was being filled up. I have no idea how that happened. I was playing a computer game at the time and somehow or other.................

Lia thinks this looks interesting.............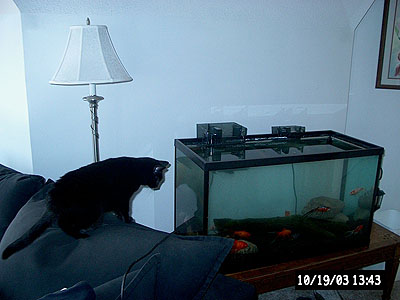 Ah look! An animated menu!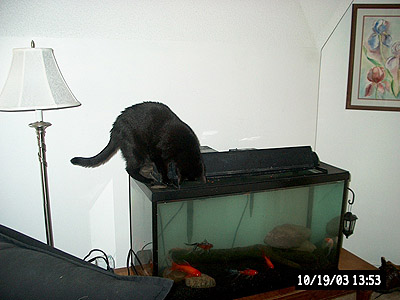 Who me? I wasn't doing anything.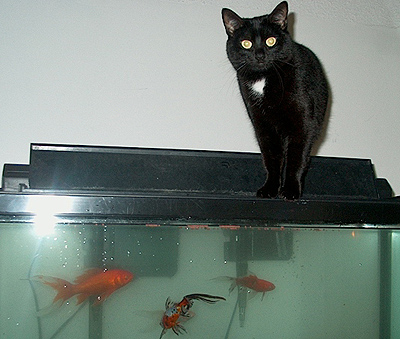 Talk to you again next week!
Love
Auntie Carolyn
Links to previous letters:

New(ish) Kittens -Jonathan in Iowa - Build a Bear - December in Ontario - How to Irritate a Cat - Halloween 2004 - Welcome Denzel Don Poulter -Omaha Zoo - Welcome Shay Alan Poulter - Elliot and Alan Drinking Beer - Elliot Leaving Toronto - Uncle Alan Fishing - Thanksgiving in Canada - Lia and the Bird - Yogi in the Back Garden - Rogues Gallery? - New Year Snow - Carolyn's Birthday- Inside the Dome - Uncle Alan on the Roof - Our garden in 2007